Be sure to pick up the November/December 2012 Issue of FCM; Fashion Couture Magazine, formerly, Fashion Chicago Magazine to see my cover story!
As a photographer, I like to be and tend to be very hands on within the creative process. Shooting this editorial was a different experience than what I am accustomed to. Within a lot of my work, it all starts with a certain vision which all leads me to choose a specific look, theme, location, lighting, model, my creative team, and so on. It's a give and take kind of relationship. I put my ideas and thoughts down on paper and I like to give my team freedom to run with it. Its a wonderful, beautiful thing when a handful of inspiring people get together and have their ideas and art manifest into something spectacular and tangible.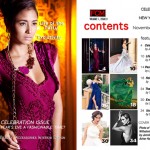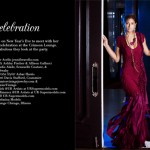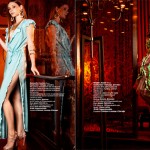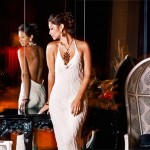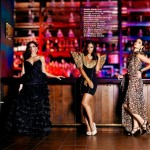 Shooting this cover story was a slightly different work flow. In layman's term, I basically just had to show up and take the pictures. (And edit the film, of course.) Now you are all probably saying, "Isn't that what she always does?." In all actuality, showing up, lighting my set, and taking pictures are definitely an important factor in most jobs I do. However, with ever test, shoot, editorial, job, etc comes ALONG list of other duties. When you hear photographers say, "Taking pictures is only 5% of what I actually do," they aren't kidding. Between creating a concept, building a mood board, scouting locations, and contacting agencies and artists for specific jobs, the actual photography part can sometimes feel like the smallest factor of the equation. And all though sometimes I dread carrying so many other tasks on my shoulders, through shooting this editorial I have come to aprechiate both sides of the matter. I must admit, not having to do everything (behind the scenes) yourself does lead to a sometimes, less stressful and relaxing shoot however…… I do HIGHLY enjoy having a say in the aspects of what truly does make a great photograph come together. It feels more, authentic that way.
XX,
J
Models TIFFANY STONE @ WILHELMINA MODELS, ANIA & GINA @ UR SUPER MODELS
Photography & Retouching JENNIFER AVELLO
Photography Assistants ASHLEY FISCHER & ALLISON GALLUCCI
Creative Director & Wardrobe Stylist AZHAR HARRIS
Accessories Stylist TERRI DAVIS STAFFORD
Hair Stylist JASON PATRICK @ UR ARTISTS
Make up Artists KAYRA JIMENEZ @ UR ARTISTS