Glossed and Found, Spring Beauty Preview
As the snow falls and we begin layering even more clothing to bear the Winter breeze, we can't help but daydream about how Spring is right around the corner! What better way to warm up then with a cup of tea, a warm blanket, and a preview into this years, Spring Beauty Trends!?

This month I photographed Glossed and Founds first beauty editorial. Our Spring Beauty Preview was all about creating fun, flirty, and EASY Spring Beauty Trends and provide our audience with the opportunity to 'Get The Look,' through How to Videos and our go to product lists.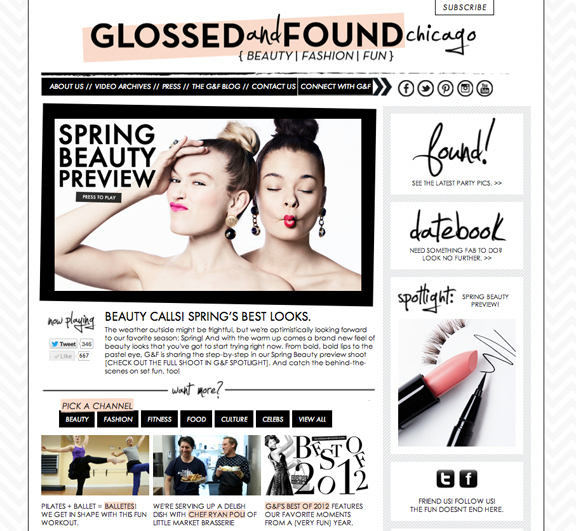 This Beauty Story was a wonderful collaboration between some of Chicago's finest Artists and rising talent. I was honored to work along side of such great inspiring individuals. It was also a new and exciting experience for me to have three separate aspects (Beauty Photography, Still Life Photography, and Film) merge together beautifully to create one seamless feature.
To see the full Spring Beauty Preview and to read about each look be sure to check out www.glossedandfound.com To check out some additional shots check out my beauty portfolio!

PHOTOGRAPHY: JENNIFER AVELLO // CREATIVE DIRECTION: D. GRAHAM KOSTIC // STYLIST: HELEN BERKUN, FORD ARTISTS // HAIR & MAKE UP: CHRISONDRA BOYD, FORD ARTISTS // STILL LIFE PHOTOGRAPHY: ANNA KNOTT // STILL LIFE STYLIST: CHRISTINA DUNNE ANDERSON, FORD ARTISTS // MANICURE: ANDREA FULERTON, FORD ARTISTS // FILM: BILLY ROOD // STYLING ASSISTANT: ELIZABETH MARGULLIS // PRODUCTION ASSISTANT: ROBBY MUELLER + NICK BLAISING // MODELS: CARLY, OLIVIA + JESSE, ALL AT FORD CHICAGO.
For more fun behind the scenes of our Spring Beauty Preview check out Glossed and Founds Facebook Page + Jennifer Avellos Facebook Page!
xx,
J